Deadly Sins or Heavenly Virtues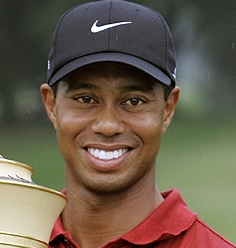 I always strive to be the best at my job.  It would be nice if my job was "golf."  But I'm thankful I'm not the best golfer in the world.
Eldrick Tont Woods better known as Tiger is a good study in the seven deadly sins with a balance of the seven heavenly virtues.  Tiger is usually very patient on the golf course.  He often has to wait for the golfers ahead of him to finish a hole or for the weather to change so the game can get started.  His father, Earl, practiced patience and concentration with him by rattling coins in his pocket just as he was about to strike the ball.  Most of the time, he is steady as a rock.  But we've seen Tiger get angry and throw his golf clubs in the lake.  And there is no better example of his wrath than when an adoring (stalker) fan snaps a picture of him during his backswing.  It happened just this weekend and Tiger let loose with a string of R rated expletives that would have embarrassed Howard Stern.  No one in golf condones taking pictures during a match that would distract the golfer, so I haven't figured out why anyone in their right mind would do this.  I assume there is a black market for these photos with a hefty payoff or maybe just the hope that someday they will be worth a lot of money.  Note to self:  Take a picture of Eldrick on the 18th tee at the Masters in 2010.
Americans are plagued with problems of obesity – but not Tiger.  He is the model of temperance when it comes to carbs and as a result he is fit as a fiddle.  But you won't see any famous golfer eat more often than Tiger Woods while he is playing golf – except maybe the infamous John Daly.  The difference is that Tiger eats half of a peanut butter and jelly sandwich every 4th hole or so.  John Daly eats a Big Mac, large fries, and an apple pie after every hole.  Tiger's golf ball and perhaps the rookie paired with him in the final round of a major championship are the gluttons for punishment in this story.
So who do you know that is not a greedy person.  Sorry, Tont, but I have to say that you are greedy also.  It's human nature.  He wants more titles, more money, and more endorsement deals.  On the flip side, he does some mighty fine charity work.   He has his own foundation and I recently found out that he is supporting a plan for cell phones for soldiers.  He supports the rainforest – but who doesn't?
Eldrick has a lot to be proud of.  He takes pride in his game.  It really shows when he makes a 175 yard hole out.  Occasionally you see some humility after a shot like this (he hides his face behind his hand and laughs). I have made a few long putts and I act like I have been there before, even if I haven't.  But to make the long shot from a football field away, I would jump out of my skin with excitement and show no humility.  I have to say:  Advantage Tont.  He is doing it in front of the world, and I'm only doing it in front of the three stooges I got stuck playing with.
To talk about Tiger and lust in the same sentence, you have to talk about my wife.  She is in love with Tiger.  She has told me that she would leave me in a heartbeat to be with him and he is the only man that she would cheat on me with.  I don't think he ever lacked for female admirers but I have heard that his dad promoted chastity and severely limited contact with the opposite sex so that he could concentrate on his game.
I have watched Eldrick play golf for over half of my life.  He seems diligent in every area of his life.
When he appeared on the Dick Cavet Show at the age of 4, he was dressed impeccably.  I've often wondered if his car might be a mess.  I bet I could find some dirt somewhere in his life, buy why bother.  His life just points out the sloth in everyone else.
What does Tont have to be envious of?  I say that sometimes he is envious of me.  Envious of my privacy.  Envious of my normal life.  Envious of sitting on the beach and writing a blog.  Envious of not having to worry about the paparazzi or stalking fans and their cameras.  His kindness to these people has been an example for me though.  I have people at the Caddyshack ask me if they can take my picture all the time.  At first I thought it was because they were enamored with my serving and bartending skills and wanted to share their experience with friends and loved ones back home.  Then one day a colleague pointed out to me that they only wanted my picture because my apron has Tiger's name on the back.   That colleague was envious of my apron and I was not kind to him in my response.
So to sum it all up.  I am very envious of Eldrick Tont Woods.  I understand the pride he has in his game and his desire for more and more based on greed.  There is some wrath in my heart based on my wife's lust for this man's body.  I would love to find a hidden sloth in his closet, and just like the poor golf ball, I'm a glutton for punishment every time I put my golf ball on the tee.  But anyone will tell you that I also exhibit his virtues of kindness, patience, diligence and temperance.  I exhibit humility when I need to and I have several charitable bones in my body.  Now if I could just find a chastity belt for my wife.