History Lesson < 1000 Words "Seemingly Insignificant: The Death of Helen Jewett"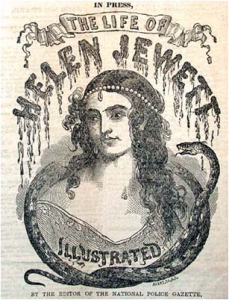 *Image of Jewett from the serialization of her murder story at History Cooperative – Tales from the Vault
Few people realize the significance of Helen Jewett's murder.  Many people (besides historians) know little or nothing about her.  Seemingly insignificant, Jewett's murder was instrumental in the advent of tabloid-style journalism and new literary genres.
The murder of Helen Jewett on April 10, 1836 generated nationwide publicity.  What differed from other murder stories of the era is the fact that Jewett was a prostitute.  Starting in the 1830s, cities like New York began seeing an increase in newspapers that leaned towards reporting on vice and crime, something that had earlier been considered inappropriate.  This new trend, coupled with the Jewett murder, resulted in a story that fueled the developing era of sensationalistic reporting and "immoral" literature.
Helen Jewett was born Dorcas Doyen in Maine, sometime in October of 1813.  After her mother died, and her father remarried, she was forced to find employment as a domestic servant.  Sometime later, after a scandal deemed her "damaged goods," she began working as a prostitute.  After spending time in Portland and Boston brothels, she came to New York.  Jewett had only been in New York about four years prior to her murder.  In the early morning hours of Sunday, April 10, 1836, Rosina Townsend found something amiss at her Thomas Street brothel.  Having found a lantern placed in an odd spot, she went upstairs to try to find which room it belonged.  Rosina "tried the back west bedroom door, the door to Helen Jewett's room, and found it unlatched.  When she pushed open the door, smoke billowed out."[1] What she ended up finding inside was the bludgeoned and burning corpse of Helen Jewett.  It was not long before speculation turned towards Richard P. Robinson, a young client of Jewett.
Jewett's murder came at a key time.  Editors of penny newspapers were in the midst of a heated rivalry.  That rivalry resulted in newspapers leaping on the Jewett case, "framing their storytelling in the conventions borrowed from the popular literature on fatal crimes"[2] These crime pamphlets had been a staple in America since the colonial era.  Prior to Jewett, there was an unspoken rule among newspaper editors not to report on taboo subjects, like prostitution.  In fact, "Journalistic etiquette traditionally demanded that tales of sex and scandal be omitted altogether from the city's daily press."[3] Jewett's death threw journalistic etiquette out the window.
At the time of Jewett's death, newspapers were scrambling to find as much information as possible on who she was and where she came from.  Early reports were unsubstantiated, but compelling.  The Sun stated that Jewett's real name was Ellen Spaulding, the daughter of Major General Spaulding of Maine, and she had been seduced by a bank cashier, thus dooming her to prostitution.[4] The Transcript, on the other hand, provided an account believed to have an air of authenticity since it came directly from Helen Jewett.  A few years prior to her death, Jewett had pressed assault charges on a man.  As a result, the Transcript's court reporter tracked Jewett down for an interview.  Jewett informed the reporter that she was born in Massachusetts, orphaned at an early age, and was eventually sent to a boarding school in Boston where the son of a respectable merchant seduced her.[5] A third version, reported in the Herald, stated that the victim was "really named Dorcas Dorrance, a poor orphan from Augusta, Maine.  She was taken into the family of Judge Western . . . .  [and had] lost her 'honor and ornament' to a cashier from an Augusta bank. . . ."[6] Out of all three versions, this one was the most accurate.  By April 28, 1836 the Herald printed a letter from "Western" himself, Judge Nathan Weston, with whom Jewett had spent her teenage years as a domestic servant.  Eighteen days after her murder, everyone knew the true background of Helen Jewett.
In addition to the rivalry between newspapers, the public was increasingly interested in violent death and sex.  Jewett's murder "was a leading example of the popular genre:  a prostitute, murdered with a hatchet in her brothel bed, [which] deepened the connection between titillating eroticism and titillating horror."[7] What resulted was a fascination with Jewett that led to prints and illustrations that continued for years after her murder, and helped to prompt a new literary genre:
"By the late 1830s, in fact, guidebooks to brothels began appearing.  These publications similarly   emphasized the beauty and sex appeal of their subjects. . . .  Sold in bookstores and corner newsstands, Butt Ender's Prostitution Exposed (1839), Charles DeKock's Guide to the Harems (1855), and the anonymously published Gentleman's Companion (1870) and Gentleman's Directory (1870) presented arrays of women willing to satisfy a variety of sexual needs."[8] (On a non-professional note, Butt Ender's and DeKock's?  I could not make that up!)
Robinson was ultimately found not guilty of the murder of Helen Jewett, but the newspapers continued to report on his actions until his death.  The press declared him guilty, and long after the trial referred to him as the murderer of young Helen Jewett.  Jewett's death came at an opportunistic time for New York.  Society was craving true crime stories, and the fact Jewett was a prostitute added to the appeal.  Her death served as a catalyst for both newspapers and writers, and as such, the orphan girl from Maine will always be a historically significant "small" crime.
REFERENCES:
Cohen, Patricia Cline. The Murder of Helen Jewett. New York: Alfred A. Knopf, 1998.
Gilfoyle, Timothy J. City of Eros: New York City, Prostitution, and the Commercialization of Sex, 1790-1920. New York: W.W. Norton, 1992.
---
[1]
Cohen, 7.
[2]
Cohen, 25.
[3]
Gilfoyle, 95.
[4]
Cohen, 29.
[5]
Cohen, 29.
[6]
Cohen, 30.
[7]
Gilfoyle, 145.
[8]
Gilfoyle, 146.