On the Floor In the Round
It was June. We were days from leaving the Cove, the home we'd known for almost two years. Weeks before the move, I put my cooking on lock-down. Nothing – no mashed potatoes, no spicy salmon, not even a tin of Mary B's. I certainly didn't further my attempts at baking the perfect biscuit. It was brutal, I know. But the transition had consumed me. One minute I was buying a house, and the next I was looking at apartments. I would wake up in the morning daydreaming about a big yard for my daughter to play in and go to bed that night crying at the thought of her running circles in some teeny little two-bedroom in southwest Little Rock.
I was spending all of my energy on taking care of Liv, working, and trying to control one of the most uncontrollable processes ever (see also: buying a house), so naturally I didn't have much left over for anyone else. Cooking, for me, is about connection. I plan menus with people in mind, and those people stay on my mind until they are seated at my table and I'm putting a heaping plate of goodness in front of them.
So I didn't cook…until the night that Michael Jackson died. I was on the phone with my realtor for probably the 37th time that day, and there it was. On the line. In the news. It was so surreal. I wasn't even that huge of a fan, but something of this magnitude was admittedly inescapable. My roommates came in, and we all assumed various positions on the couch, chairs and packing boxes. And we watched.
And then I decided it was enough. We'd all had enough. We were leaving a house we loved. Our futures were varying shades of uncertain, and our hopeful arms were trembling with the fatigue of filling up boxes, moving furniture and generally holding it all up. I have no other explanation save that the shock of MJ's death was one giant thump on the nose. We needed comfort food, and we needed it fast. So I busted out the big guns, and we ate. And we laughed. And we cried. And we slept. And six days later, we left.
Six nights ago and almost one year later, we were together again. We played dress-up in skinny clothes, we ate, we giggled and sang and generally made fools of ourselves. And I woke up a little sad the next morning because they'd all gone home hours before, when we used to wake up under the same roof. But I know they'll be back. And when they do, I'll be ready. I'm always ready.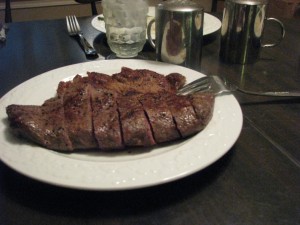 Andrea's Flat Iron Steak
1 Flat Iron Steak (1 lb. generally feeds 2 people)
3 Tbsp Olive Oil
1 Very Serious Iron Skillet
Jane's Krazy Mixed-Up Salt (this is non-negotiable)
2 Sheets Heavy Duty Aluminum Foil
Thirty minutes prior to cooking, rub the meat with Jane's Krazy Mixed-Up Salt and allow it to return to room temperature on a clean wooden cutting board. I find that this is a good time to hold a contest to see who remembers the lyrics to Billie Jean most accurately.
Preheat oven to 500 degrees. Heat iron skillet on high until oil is smoking. Consider Quincy Jones and Truman Capote. Contemplate dichotomy. Discuss. If your guests can't discuss, feign culinary catastrophe and head to the nearest cantina for relief: trust me, this is your only option at this point.
Once the oil starts to smoke, drop the steak and sear on both sides for 60 seconds each. Immediately transfer to your preheated oven for 5-9 minutes, depending on the steak's weight.
Remove the steak from the oven, using pot-holders in handling the Very Serious Iron Skillet (I learned this one the hard way). Immediately transfer the steak to aluminum foil. First fold a horizontal crease over the top of the meat and then fold the sides up to form a packet around the steak. Let the meat rest for 5 minutes. This will keep the steak nice and juicy. Who can stand when she's in demand, her schemes and plans…
Serve with mashed potatoes (homemade if you know what's good for you), yeast rolls and something that has either cheese or homemade ranch dressing in it. Or both. As you munch away at what should be a cut-it-with-your-fork-tender steak, take a good look around. Remember all of it. If sitting still really is the exception to the rule, then let's lean on that exception just a little bit harder and see if we can't find the courage to choose those moments instead of being shocked when they find us and clamoring for something to put on the table.