I Know Now Why You Cry, But It Is Something I Can Never Do
Throughout 1994's Oscar winner for Best Picture, the main character is presented with two opposing ideas: 1) That we all have a destiny set forth by God, and we must meet that destiny head-on and 2) That life is a box of chocolates, that you never know what you're gonna get.  The interesting thing is that Forrest Gump is taught good, honest, God-fearing values from his Mama, the one who is actually more of a go-with-the-flow, open-minded free spirit.  But it's Lieutenant Dan—the strict military man believing in hardcore Fate, in righteous destiny—who openly displays disgust with the Fate-Maker, who feels lost and forsaken for a good portion of the film.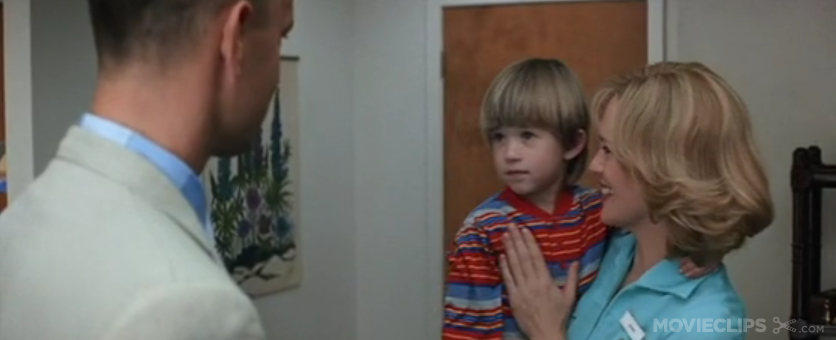 Forrest comes to the conclusion—on that important existential question—that "It's a bit of both," meaning maybe we all have a destiny, and maybe we're also all sort of floating along on a breeze.
I couldn't agree more with Forrest—and I apply this philosophy to almost all arguments:
Nature versus nurture?  A bit of both.
God versus science?  A bit of both.
Empire Strikes Back versus Return of the Jedi?  A bit of both.
Blondes versus brunettes?  Definitely both.  And redheads, too.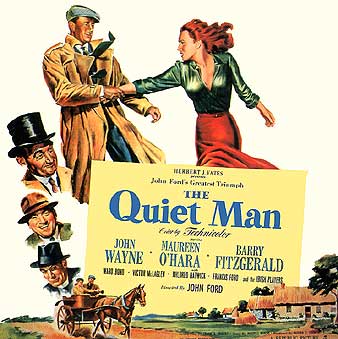 This cheerful, inclusive relativism annoys the crap out of some people, especially friends or family who want answers, or anyone who can't decipher how liberal or conservative I really am.
There are some things I'm definitely certain are wrong: racism, sexism, ageism, homophobia, Communism, Anti-Semitism…and I'm sure there are a few more isms I can't stand.  Ismism (the need to label everything) is a bitch.  Itiswhatitism (the frequent uttering of possibly the stupidest sentence in any language) is the worst.  But if you present me with two options, and neither option involves the aforementioned isms, imminent death, abuse, heartbreak, or mayonnaise, and I'll probably say "both."
But I digress.
The real reason I brought up Forrest Gump has little to do with existentialism or spirituality; rather, it's the fact that I cry like a girl during two key moments in the film.
More importantly, the statement "cry like a girl" struck me a week ago as I developed blog ideas on the topic of "Gender," because, as I wrote a little while ago, I am "definitely certain" that sexism is wrong.
Isn't claiming that females cry a certain way—or more often than males—an inherently sexist idea?  Doesn't that statement—and similar ones, e.g. "throw like a girl,"—stem from some kind of deep-rooted, stereotypical notion that the so-called "fairer" sex is also, clearly, the "weaker" one?
I'm not a crier at funerals, and I'm good at not choking up during sad goodbyes.  I keep a stiff upper lip.  I keep my chin up.  I joke around.  I fake it.  I block it.  I bottle things up.
Thirty percent of my left lung collapsed once—it felt weird as hell, but no tears came.  I pulled my groin sliding into second back when I was fifteen; didn't even sniff, played through it, hit a triple in my next at bat.  That same year of high school, I pitched a game in which I gave up six—that's only one short of seven—home runs to opposing batters.  The only consolation that day was that I hit two home runs myself; we lost, of course, because of my horrendous hurling performance, but did I hang my head in shame and wail?  No.  Tom Hanks once explained in a different movie: there's no crying in baseball.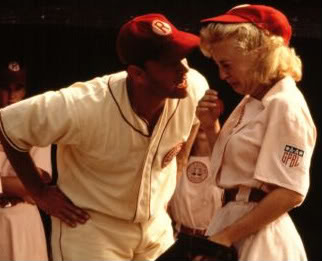 But once, I almost started bawling just listening to the Zen-like jingling that plays on the main menu screen of the Nintendo Wii.
The first time I saw the Pixar film, Up, I squirmed all teary-eyed during the early montage of a couple's life and struggles.  The second time I saw Up, I found entirely new things to heave and sob about, and I really don't think I made it through much of the movie without wiping my eyes.
I recently reread the novelized Flowers for Algernon, and by the end of it I was a wretched, convulsing mess.
At the end of Shadow of the Colossus, I legit wept.
The last episode of The Wonder Years—at one particular point when they start playing the score from The Natural, and again when Kevin is talking to his dad with Daniel Stern's wonderfully cheesy voice-over in the background—renders me utterly unmanly.
But that's the question I'm getting to: what is manly?
Plenty of ladies say they think it shows strength when a man can cry in front of her.
Part of me likes that sentiment; in particular, the part of me that shrivels into a sad ball of snot when I hear Samuel Barber's Adagio for Strings.
But another part of me is man enough to admit that I'm embarrassed to be man enough to cry like a girl at the drop of a hat.  I almost never cry in real life, and I'm fairly tolerant of pain; but when I'm forced to think of real life's cry-worthy shit by a piece of music, or a work of art, or the written word, I turn into a right sucker.
Am I a nice guy?  Sensitive?  Thoughtful?  Do I like puppies, and cupcakes, and cuddling?
Sure.
But I also like when, you know, Mel Gibson, in Braveheart, decapitates a motherfucker for being English.  I love American football; in particular, when a linebacker sacks a quarterback and you wonder for a millisecond if someone is about to be decapitated.  And I love Westerns, where Clint Eastwood and John Wayne can shoot your head off from a few hundred yards away.


I like movies like First Blood, for God's sake, about a misunderstood Vietnam veteran using survival tactics, camouflage, and a few sharp sticks to take out an entire police force.
Wait a minute.
Sly bawls at the end of that movie.
Is Stallone girly?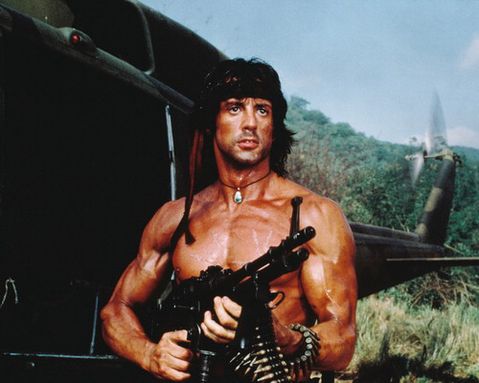 This guy isn't girly.
But what is girly?
Am I preconditioned by society, by parents, by religion, by history, to believe that pink is for girls, and blue is for boys?
Or, is it possible that pink really is for girls, and blue really is for boys, but the logical, agnostic, mostly scientific feminist in me denies that possibility on principle because of my assumption that gender-based assumptions are generally all wet?
Maybe it's a bit of both.
Either way, I dare any human to watch My Life with Michael Keaton and not tear up at least a little.  Or see Schindler's List or The Pianist.  Watch—or read—One Flew Over the Cuckoo's Nest; if you don't have something in your eyes by the end, you're probably just a soulless bastard no matter your gender.
What makes you humans cry?
Hmm.  My last sentence makes me wonder: if aliens exist, do they cry?
And if so, like girls?