Welcome to Gobblechusetts
Anyone who knows me can vouch for this statement: I love Massachusetts. Where outsiders say we're rude, I say we're fast-paced. Where some say Michael Jordan, I say Larry Bird. I challenge anyone to show me more diversity in landscape and natural setting within a small space. Great heritage, massive opportunities, rich traditions, silly accents, we've got it all. Welcome to the Bay State, world!
Ah. Time now to introduce the antagonist to our story: the sign that greets those who enter the Commonwealth: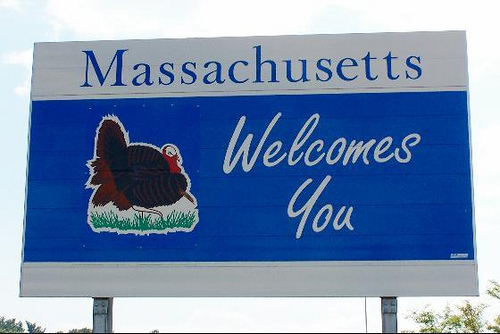 [Sound of crickets.]
What the hell is this? What kind of cheesy, underwhelming welcome is this? Yes, good readers of the lesser 49 states (or, dare I say it, any non-U.S. countries!), your welcome to the birthplace of the Revolution, Harvard, basketball, and Fig Newtons is this. Let's do some quick analysis, beginning with that stupid turkey. Why in the wide world of sports is there a turkey welcoming people to Massachusetts? And an ugly, mean-looking, cartoon turkey at that? Sure, I get the connection between Massachusetts and Thanksgiving, but let us at least be accurate: the first feast may have had some turkey as a part of it, but it was hardly the defining part of the meal. The table overflowed with fish, shellfish, grains, fruits, vegetables, and all manner of wild fowl, including game hen, geese, and swan (!) beyond the turkey. If a link to Thanksgiving is so key, how about a table filled with original food? How about a joining of pilgrims and natives? How about the Mayflower? Hell, I'd even take Foghorn Leghorn over that dopey bird.
The rest of the sign is hideous as well, from the corny font, to the boring color scheme, to the crappy metal display. This is not to say that the signs from the rest of the states are out of this world, but I see nothing as stupid as the MA sign (and that includes the previous MA sign–see the image at the end). All told this sign is a poor representation of the real Massachusetts, and if the national economy wasn't in tatters, I would demand action. Actually, we can take action that costs no money: let's tear the signs down. I would rather a driver have some confusion over whether she is still in New Hampshire or Rhode Island than affront our visitors and residents each time they drive in. It may look like a meaningful symbol, but in the end it tastes like a bad sign.